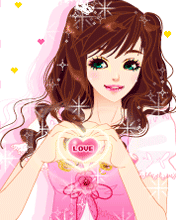 This post is special for my

Mom and Dad

. My mom is far away form me but always near to heart. Mom Happy Marriage Anniversary.
Love you and Miss you

MoM
Gulabjamun
An Indian sweet preparation traditionally made out of evaporated desiccated milk blended with wheat flour, fried and soaked in sugar syrup.

Ingredients:
Ready made gulabjamun paket of 200 gm
600gm sugar
Ghee for deep fry
Few strands of saffron
Method of making Gulabjamuns:
Step 1: Mix the ready made jamuns packet with 125 to 150ml water in parts in big vessel. (For richer jamuns, use simple milk instead of water.)
Step 2: Knead gently into soft and smooth dough.
Step 3: Apply ghee on both palms and then shape medium round and smooth jamuns without cracks from the dough. Cover the jamuns with moist cloth until we make sugar syrup.
Step 4: Take 600gm sugar in vessel.
Step 5: Add approximate 600ml water in it.
Step 6: Turn on the gas and heat this sugar mixer until they are bubbling.
Step 7: When bubbling is stop and mixer becomes slightly thick then turn the gas in lowest flame. Don't turn off the flame until we simmer the gulabjamuns.
Step 8: Add few strands of saffron in sugar syrup.
Step 9: Take a thick pan and heat the ghee or oil on medium heat.
Step 10: Place the jamuns softly in heat oil in law flame.
Step 11: Deep fry in ghee in low flame until it turn golden brown.
Step 12: Drain excess ghee and place the hot sugar syrup in low flame.
Step 13: Soak the jamuns in hot sugar syrup for 15 minutes.
Step 14: After 15 minutes place it in another serving bowl and enjoy with your dinner or lunch….:)

Coriander leaves dry puri (Snack Item)

Ingredients for making coriander mixer:
3 cups fresh coriander leaves

9-10 long fresh green chillies
3 big size lemons (½ cup lemon juice)
1 tbsp turmeric powder
3 tbsp sugar
Salt to taste
Method for making coriander paste:
Step 1: Wash the coriander leaves very nicely and chopped it.
Step 2: Cut the green chillies and blend all material in mixer with little water.
Step 3: Mix till smooth paste.
Ingredients for making puri:
2 cup wheat flour
1 cup semolina (Rava/ Suji)
6 tbsp oil
Oil for deep fry the puri

Method of making coriander leaves puri:
Step 1: Mix the both flour with 6 tbsp oil very nicely.
Step 2: Add the mixer of coriander leaves.
Step 3: Knead slightly stiff dough and add little water if it needed.
Step 4: Cover with a moist cloth and keep aside for 5 minutes.
Step 5: Knead again and divided into big portions.
Step 6: Roll into big round shape and then cut into small round shape with help of round shape.
Step 7: Make small Slits with the tip of the knife on top of the puris.
Step 8: Deep Fry the puri in hot oil and fry until they are golden brown on both side.
Step 9: Drain excess oil.
Step 10: If you like square shape than try in square shape it is easy to shape and quick to make.
Step 11: Store in a container.
Step 12: Enjoy it in your breakfast or snack time…..............:))
Let us love everyone, who comes our way, every element that is a part of our life....To make this world more beautiful. :)